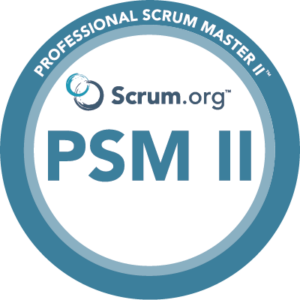 Course focus
The Professional Scrum Master II class is designed to take your impact as Scrum Master even further. The class revolves around the values and principles of Scrum, assuming you already bring a solid understanding of the Scrum framework to the class.
Take time to consider how you are applying the the following stances in your Scrum Mastery, and which ones can be further enhanced:
Coach – how well are you applying open, unbiased, powerful questioning to bring out the most in your Scrum Teams and organization?
Mentor – are you effectively sharing your own experiences while at the same time opening up the opportunity for ownership in your Scrum Team?
Teacher – how well are you applying good teaching approaches to help others learn, understand and live Scrum?
Facilitator – how successful are you in enabling your Scrum Team to work through options in order to make good decisions for themselves?
Change Agent – how can you nurture and grow an environment of continuous improvement and make it a part of your Scrum Team's thinking?
Impediment Remover – are you engaging with your Scrum Team at the right level when considering impediments, not too close and not too far away?
Agile Leader – are you being a role model for the behaviors you want your Scrum Team to live themselves in the interests of a self managing team?
If you are looking to broaden your impact as Professional Scrum Master and develop your communication within your Scrum Team and organization, then this class provides an excellent opportunity to realize this. A combination of theory and significant time for practice while applying a variety of ©Liberating Structures will allow you to advance your Scrum Mastery. The class rounds off with an active coaching and mentoring opportunity which will allow you to think through and discover which stances you already naturally adopt, and those which could be developed further.
Upcoming classes
Live Virtual Class on 29 February – 1 March 2024 – Register here