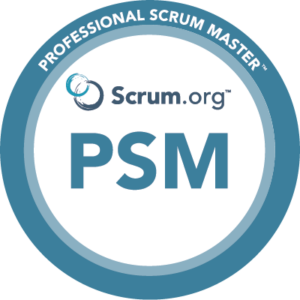 Course focus
The Professional Scrum Master class acts as both a fundamental Scrum training as well as preparing every Scrum Master with mindset and methods to successfully advance their own Scrum Team's product development effectiveness, quality and productivity.
The following aspects are discussed, analysed and practiced in the class, all designed to trigger a true understanding of Scrum Master accountabilities:
Scrum Theory & Principles
The Scrum Framework
Done & Undone
Product Delivery with Scrum
People & Teams
The Scrum Master
If you are looking to professionalize your Scrum Mastery, while fully understanding the benefits Scrum can bring to your business, then this class provides an excellent basis to achieve this. A combination of theory and practice will show you to build a solid foundation in your Scrum Mastery by opening up your understanding of the full potential of the Professional Scrum Master.
Upcoming classes
Live virtual class 18-19 January 2024 – Register here