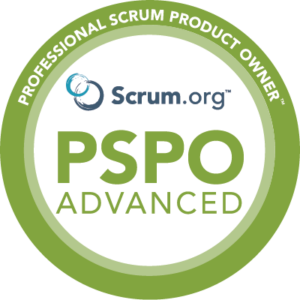 Course focus
The Professional Scrum Product Owner – Advanced class is designed to take the thinking of the Product Owner further, by considering key stances a Professional Scrum Product Owner should be taking and developing.
These stances are:
Visionary – how can you portray your Product Vision with greater clarity and impact?
Customer Representative – how can you better understand your customer, their problems, and your interaction with them?
Influencer – how can you engage with Stakeholders more effectively and better understand the different personalities you meet?
Collaborator – how can you adapt your approach to ensure positive interactions with all the people you engage with as Product Owner?
Decision Maker – how can you balance the need for speed in decision making with the time needed for gathering the necessary information?
Experimenter – how can you approach your product development as a series of experiments with hypotheses to be investigated and validated?
If you are looking to broaden your impact as Product Owner and develop your communication within your Stakeholder network, then this class provides an excellent opportunity to realize this. A combination of theory and practice will show you how to advance your Product Ownership by discovering which stances you already naturally adopt, and those which could be further developed.
Upcoming classes
Live Virtual Class on 23-24 November 2023 – Register here
Live Virtual Class on 22-23 February 2024 – Register here