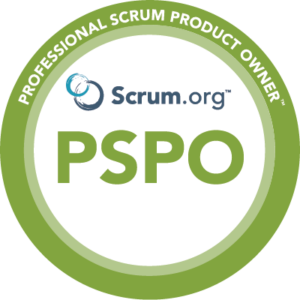 Course focus
The Professional Scrum Product Owner class acts as both a fundamental Professional Scrum training as well as equipping every Product Owner with the mindset and methods to successfully advance their own product development.
The following three guiding aspects are used to ensure a holistic view of Product Ownership, or Agile Product Management:
Creating a powerful Vision to provide a purpose for the team to get behind, as well as for ongoing motivation and communication.
Identifying and creating Value for your customer and your own business as a key guiding principle for your product development.
Validation that the right product has been built by assessing it's impact in the market through fast feedback mechanisms.
If you are looking to professionalize your Product Ownership, while fully understanding the benefits Scrum can bring to your business, then this class provides an excellent basis to achieve this. A combination of theory and practice will show you how to build a solid foundation in your Product Ownership and how to apply the three aspects of Vision, Value and Validation successfully.
Upcoming classes
Live virtual class 19-20 October 2023 – Register here
Live virtual class 15-16 January 2024 – Register here